AEV Conversions
Regular price
Sale price
$317.00
Unit price
per
Sale
Call To Order
TECH SPECS:
Manufacturing Process:
Low pressure permanent mold casting
Material:
A356/T6 Aluminum
Coatings:
Liquid clear coat, Liquid color coat, Powder Primer
Bolt Pattern:
6x5.5 (6x139.7mm)
Approximate Backspacing:
4.69"
Application:
1995+ 4Runner, 1995+ Tacoma, 2007+ FJ Cruiser
Hub Bore Diameter:
106.1mm
The AEV Crestone DualSport Wheel is designed specifically for late-model Tacoma, 4-Runner and FJ Cruiser. The Crestone's split 6-spoke design gives it an ultra-modern look while providing drivers with the flexibility and versatility that AEV's line of DualSport Wheels are known for. This wheel can be purchased with a fully-functional Beadlock Ring for running very low air pressure off-road, a Protection Ring for street use and added protection off-road or no ring with black hardware for a more simplistic look.
The DOT-compliant AEV Crestone DualSport wheel is made from heat-treated A356 T6 cast aluminum for maximum strength and has been thoroughly tested to stringent SAE J2530 standards. This wheel is also Tire Pressure Monitoring System (TPMS) compatible and features AEV's signature valve stem recess to protect the tire valve from being damaged while you are out on the trail.
AEV's Crestone wheel measures 17×8 w/ 4.69″ backspacing and will work without having to remove the axle dust cap commonly found on many Toyota trucks and SUV's. This wheel is available in a painted Onyx finish. Beadlock/Protection rings are available in either a painted Silver or Onyx finish. and can be painted for a truly custom appearance.
The Crestone was designed specifically for late model, 6-lug Toyota applications, such as Tacoma, 4-Runner, FJ Cruiser  but it may also fit other makes and models. Please refer to the tech specs for additional information and specifications about this wheel. A 13/16″ ET style lug nut will be required for most Toyota applications (see image below).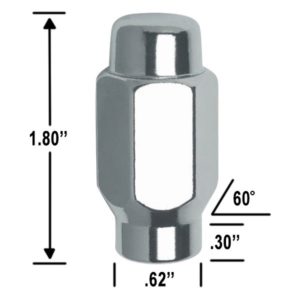 Available Configuration Options:
No Ring – The Crestone wheel can be installed without a ring for a simple one-color look. AEV supplies black nylon hardware for this configuration to prevent dirt and debris from building up inside the threaded bolt holes.
Protection Ring – The Protection Ring is a non-functional cast aluminum ring, designed as a sacrificial part to protect the wheel from trail scratches while also providing the same look as the Beadlock Ring. The Protection Ring includes Grade 8.8 hardware and is 50-state legal.
Beadlock Ring – The Beadlock Ring is designed with maximum strength and off-road durability in mind by utilizing a 16mm thick, forged aluminum beadlock ring and custom Grade 10.9 metric hardware for increased shear strength and higher torque requirements. AEV recommends that the Beadlock Ring be used for off-road purposes only.
Off Road Use Only: The Crestone wheel with the Beadlock Ring installed is DOT compliant but that does not necessarily mean it is legal for street use in every U.S. state. Check state and local restrictions on beadlock installation and use BEFORE ordering. Beadlock wheels must be properly installed and require routine maintenance. As a general policy, AEV recommends that beadlock wheels are used for off-road purposes only.
AEV Beadlock Tire Compatibility: Due to the inherent variances in bead thickness between different tire models/manufacturers, the Borah/Crestone wheel is not compatible with some tires. We have confirmed that the tires listed below are compatible with this wheel. Other tire brands and models may also work but AEV only recommends using the tires listed on this chart. Tires that are not listed on this chart may have a bead that is too thick for this wheel which can lead to wheel failure, vehicle damage and personal injury. AEV will be updating this list with additional tire manufacturers and models as we test them. Please contact the AEV Sales Team at (248) 926-0256 if you have any questions or concerns about tire compatibility before ordering. This advisory affects the Borah/Crestone wheel in the functional beadlock configuration only.
Share
View full details